Introducing PowerLift PL65
Since our founding in 1993, ReechCraft has set itself apart with innovative products and first-rate services. We pride ourselves on our ability to respond to the market with our durable product solutions. Today, we are eager to tell you how our PowerLift is helping out around a Florida church, and we are excited to introduce our brand new PowerLift PL65 with three base options!
With our brand-new PowerLift PL65, you can go where others can't! PL65 features an extremely portable design, many options for set-up and disassembles for compact storage. This practical, 3-in-1 lift is perfect for reaching difficult places easily, and is very useful in schools, churches, auditoriums, theaters, offices and more!
PL65 offers three base options, which can be used interchangeably:
a Fixed Base, when a very small footprint is needed

an Outrigger Base for especially quick and easy set-up, and

a Straddle Base, which allows you to work over any obstacle
No matter which base you are using, you'll appreciate PL65's fully enclosed personnel basket, emergency lowering system and ease of use. With our new Straddle Base, you can reach a working height of 30 feet; the working height for the Fixed Base and Outrigger Base PowerLift set-up is 25.5 feet. With ReechCraft's new PL65, the possibilities are endless!
PowerLift Serves a Florida Church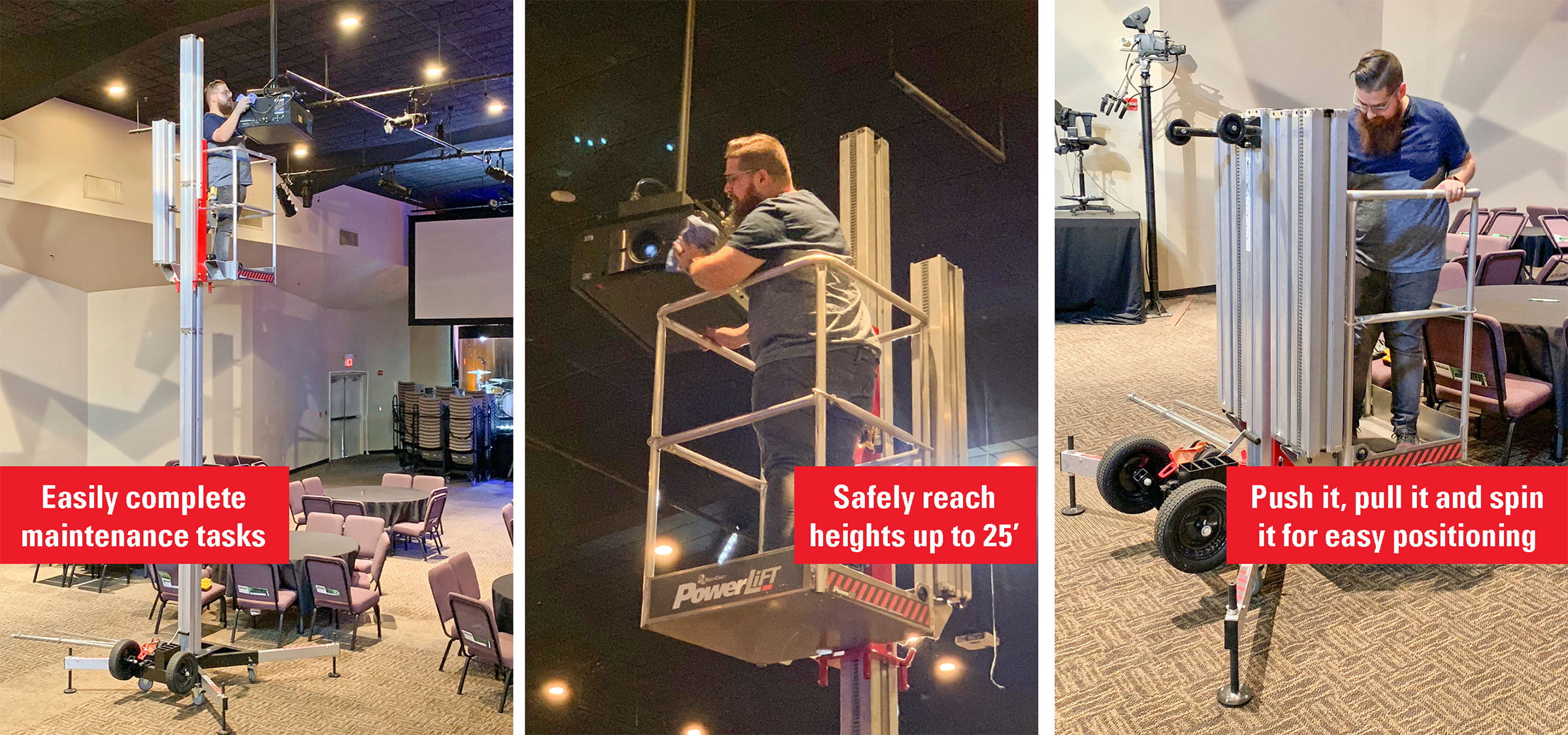 Problem: Discovery Church, located in Orlando, Florida, opened in 1984 and currently has three campuses throughout the state. Discovery Church is currently in the process of a large demolition and construction project for a new central campus called the New Ministry Center. Discovery Church had been using a competitor's single man lift for various projects and maintenance around the facilities, but that lift failed. There was an immediate need for a replacement lift, but church staff was not sure the direction to go.
Solution: Leaders from Discovery Church attended the 2017 WFX Conference in Dallas, Texas, and it was there that they met the ReechCraft team. When they saw our PowerLift on display, their attention was immediately piqued! PowerLift offers many features the competition (including their previous lift) could not provide, including:
an affordable price
ease of transportation between campuses using ReechCraft's Hitch Hauler
the ability to be cordless
Benefits: Discovery Church has found numerous uses for the PowerLift so far, including electrical installation and repair, AV installation and projector maintenance, exterior signage installation and interior and exterior light replacement. Zack Howes from Discovery Church said, "I would definitely recommend the PowerLift to other campuses and facilities."
We are so glad to have met Discovery Church and to be able to help them solve their unique access problems. If you have questions about any of our products or have a custom application, don't hesitate to contact today. And, thanks to Discovery Church for sharing their story with us!
Thanks for Visiting ReechCraft at WFX
Thanks to all of you who stopped by our booth at the WFX Conference & Expo in Orlando earlier this month! Karen and Will were glad to share our safe and convenient PowerLift with you! We want to remind WFX and NFMT Vegas attendees of our limited time show special of FREE FREIGHT* on our convenient, easy-to-use PowerLift. Contact us to get more details about this special pricing option and be sure to mention this offer with your order.
* This limited time offer will run through December 15, 2018 for 2018 NFMT Vegas and WFX Orlando attendees. Non-transferable. Offer is subject to change without notice. No cash value. Offer is not valid with any other offer or discount on existing projects, quotes or prior purchases. Offer is only available in the contiguous United States.
Since our founding in 1993, ReechCraft has set itself apart with innovative products and first-rate services. We strive to find new access solutions to meet the needs of every craftsman. If you have questions about any of our American-made products, have a custom application, want to place an order or would like additional information about our dealer program, give us a call at (888) 600-6160 or fill out our online contact form.