Bracing, Aligning and Scaffolding Equipment
Save time and money on ICF construction projects with the lightweight PanelJack. Versatile and durable enough for use on walls of any height, this system aligns forms accurately. With a fast and easy setup with a single pin assembly, the full-length aluminum strongback reaches up to 24 ft.
The PanelJack exceeds the performance demands of today's new construction, decorating and remodeling professionals. It can be used inside or outside to optimize ICF construction projects.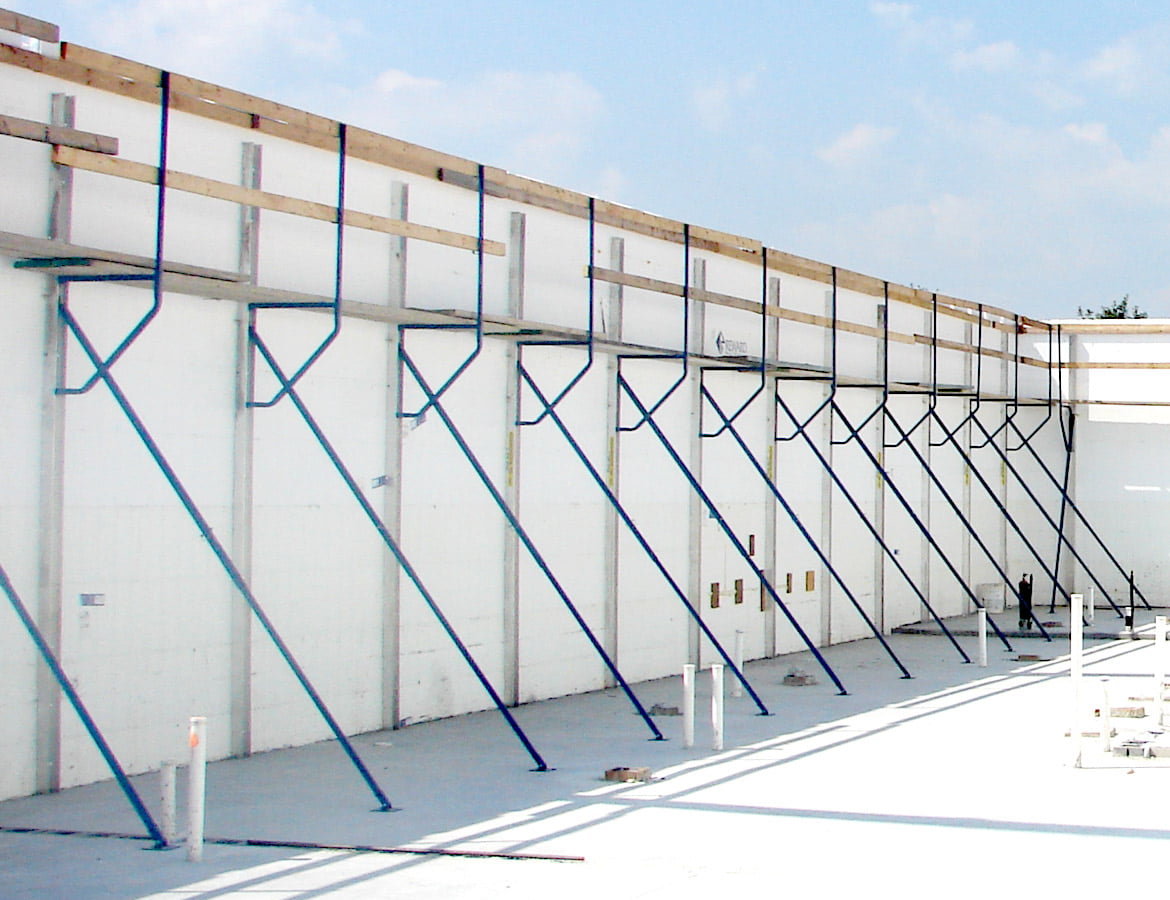 PanelJack specifications allow for ICF bracing that's versatile and durable enough for walls of any height.
The Pro System is available in 8 ft, 9 ft, 10 ft and 12 ft. Each of these systems includes a strongback, platform bracket, 7 ft to 11 ft turnbuckle and gravity pin to connect them all together. The safety rail is included in the 12 ft Pro system.
The PanelJack Tall Wall System
The Tall Wall turnbuckle plumbs walls perfectly straight. This turnbuckle comes with a 10 ft lower brace and 8 ft, 12 ft or 16 ft upper tube, which means it can be used to shore walls or ceilings up to 24 ft. All PanelJack turnbuckles use a single gravity pin assembly to give a fast, easy and consistent setup.

Full-length aluminum strongback up to 24 ft.
0.2 in. handles with 45° slope for easy adjustment.
Screw thread at bottom for easy cleanup.
1 in. x 2 in. form stake hole.
No pinch points on platforms.
Single 9/16 in. gravity pin.
6 in. x 8 in. foot plate.
Up to 1 in. concrete stake hole.
Steel or aluminum strongback.

Richard Barker
PolySteel of Northern Utah
Strong, safe and adjustable! The Reechcraft Panel Jack system is strong, safe, adjustable, versatile and lightweight. The Panel Jack bracing system allows me to provide my customer with a straight wall. Your service has been outstanding. Your knowledge and expertise has been helpful on several occasions. When I needed a large order of braces, with less than a week's notice, you had them delivered in five days. Thanks!

Get the latest from the ReechCraft blog! Read customer stories, safety tips, product updates and learn where to find ReechCraft at the next trade show. Check us out: we're always up to something new!