Custom Freestanding PowerMast Quad
Since our founding in 1993, ReechCraft has set itself apart with innovative products and first-rate services. We are excited to share our product highlights and tips with you so that you can take full advantage of our American-made products.
Today, we're eager to share a case study about a custom PowerMast used to restore the interior of a State Office building in Missouri at heights up to 80 ft!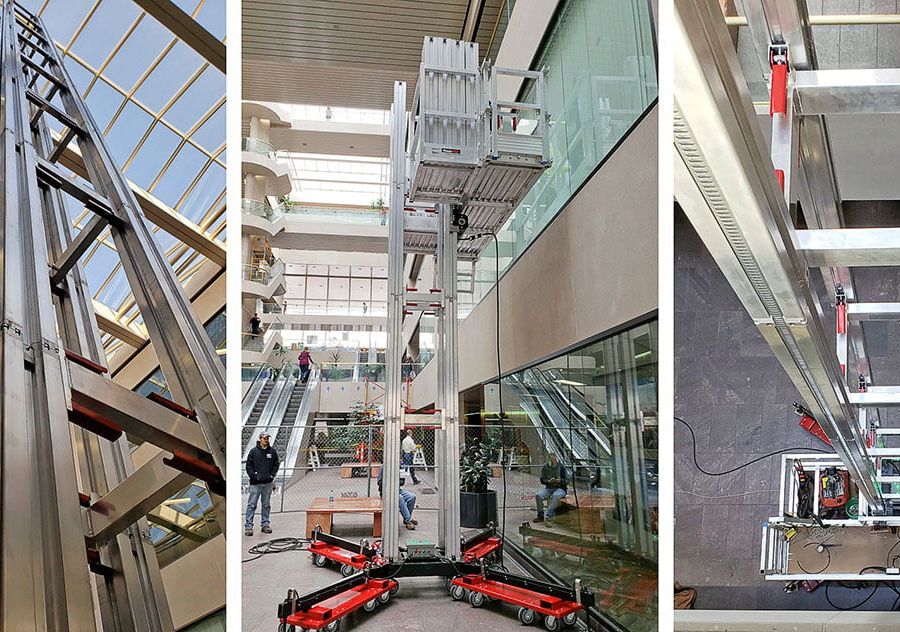 A Custom 80 ft PowerMast
for Irwin Products
Background: In business since 1991, Irwin Products has continually grown due to their commitment to service and the ability to promptly supply the needs of local construction firms. As a distributor of construction materials, they carry a wide variety of supplies to meet the needs of the construction industry. Based in St. Louis, Irwin Products serves customers throughout eastern Missouri and southern Illinois. Irwin Products is a proud member of the American Subcontractors Association, the Mason Contractor's Association and the St. Louis Concrete Council.
Innovative Masonry Restoration, based out of Prior Lake, Minnesota and Kansas City, Kansas, serves the entire Midwest with maintenance, repair, restoration and waterproofing for commercial, residential, government and historical properties. IMR had used Reechcraft equipment on other jobs and knew it would be a great fit for this job.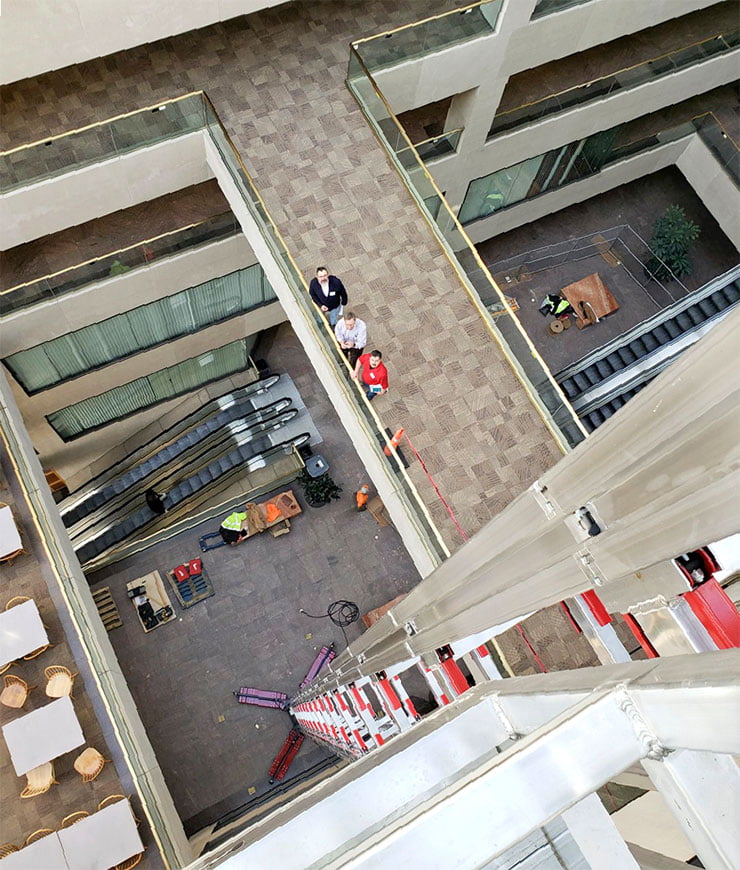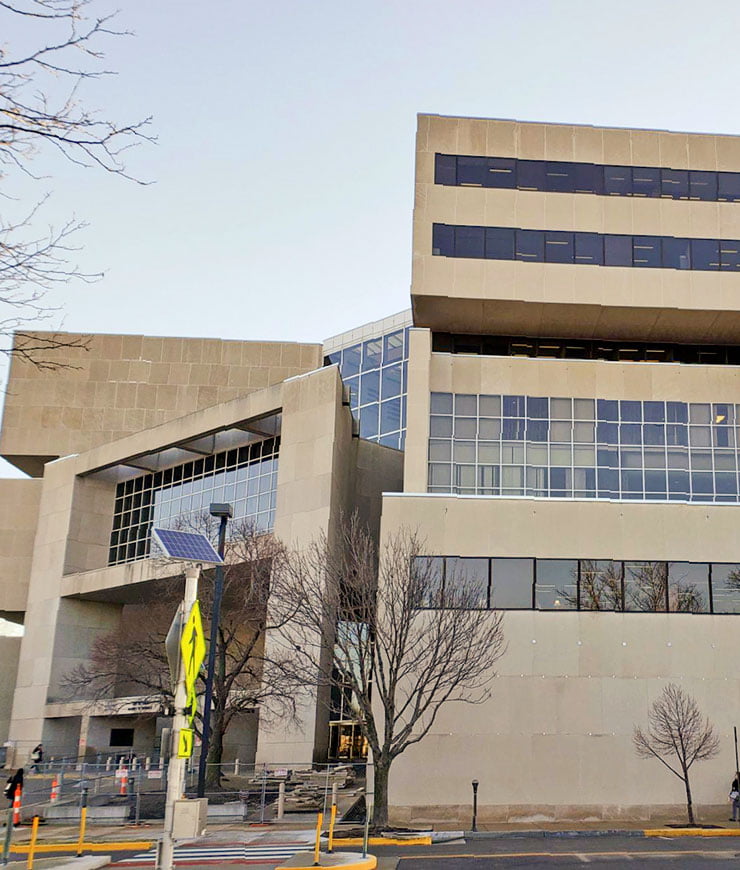 Problem: The Harry S. Truman State Office building in Jefferson City, MO, was originally constructed in 1983; the building and grounds consume 53 acres. Since its construction, the decorative limestone panels on the interior of the building have started to deteriorate and fall apart. The limestone panels, some as high as 80 ft in the air, were in need of repair so they did not become a safety hazard to those below. The floor could not support a high load, so boom lifts could not be used. The building is being occupied with office personnel during the renovation period, so setting up scaffolding wasn't feasible.
Solution: ReechCraft worked with Irwin Products to design and build a custom Freestanding PowerMast Quad that could achieve the needed height while still being light enough that the floor could easily support it. The PowerMast system is highly versatile. It provided a safe working platform for restoration workers from Innovative Masonry Restoration without obstructing essential parts of the building so office personnel could continue working as usual. With a skilled two-person crew, the system was erected in two to three hours with a minimal amount of tools. Between every five foot mast section, the PowerMast Quad has a tie that clamps down, giving the system a sturdy structure. This way, workers can erect the system as they ascend, and there's space to carry additional masts within the platform. The base is connected to a stability system that helps workers to balance out the loads. The PowerMast Quad must start out being plumb, level and square; with the aid of a good level and a little training, the crews quickly mastered this system.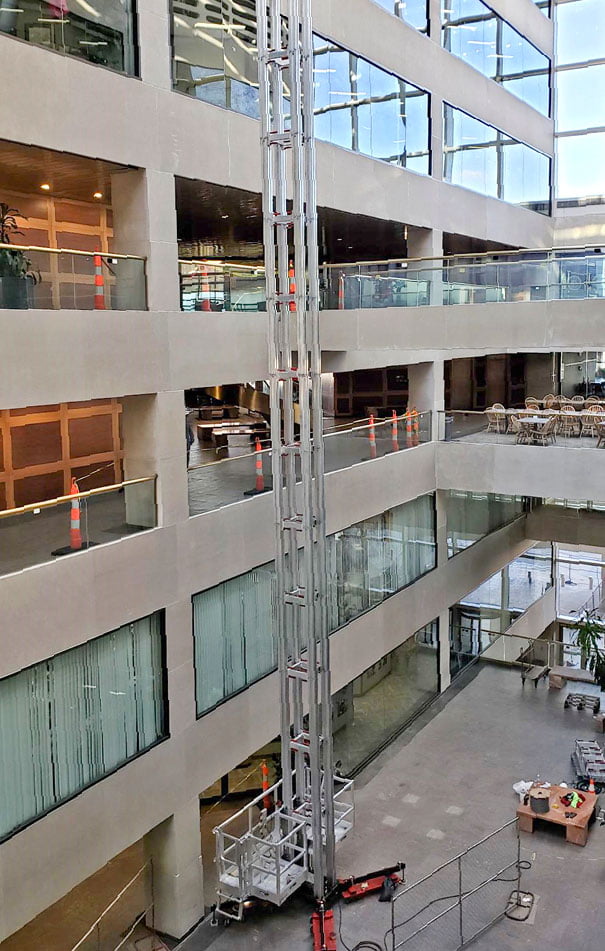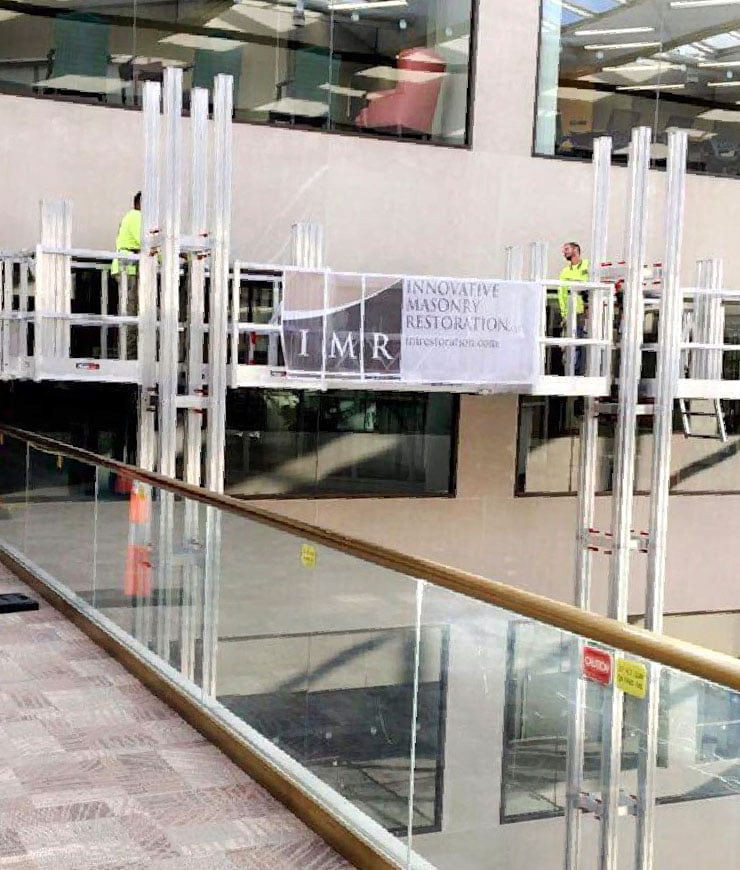 Benefits: Vince Irwin Sr. from Irwin Products said, "The Freestanding PowerMast Quad is a perfect fit for this project." Another great benefit is the ease of moving the system from location to location inside the building. When the time comes to move the Quad, the crew can simply lower the platform and easily move the whole system to the next location without having to disassemble the masts. Even fully assembled, it's so lightweight that it takes only two people to move! And, two of the Quad systems can link together with a modular stage to create a large work bridge to cover over 30 ft of work area. The PowerMast is powered by a gearbox and corded drills on a 120 volt system.
If you have questions about any of our products or have a custom application, don't hesitate to contact us today. Many thanks to Vince Sr. and the team at Irwin Products, Jim Dolby, Michael Mann and Wayne Thaxton at IMR and our Territory Manager, CJ, for sharing their pictures and story with us!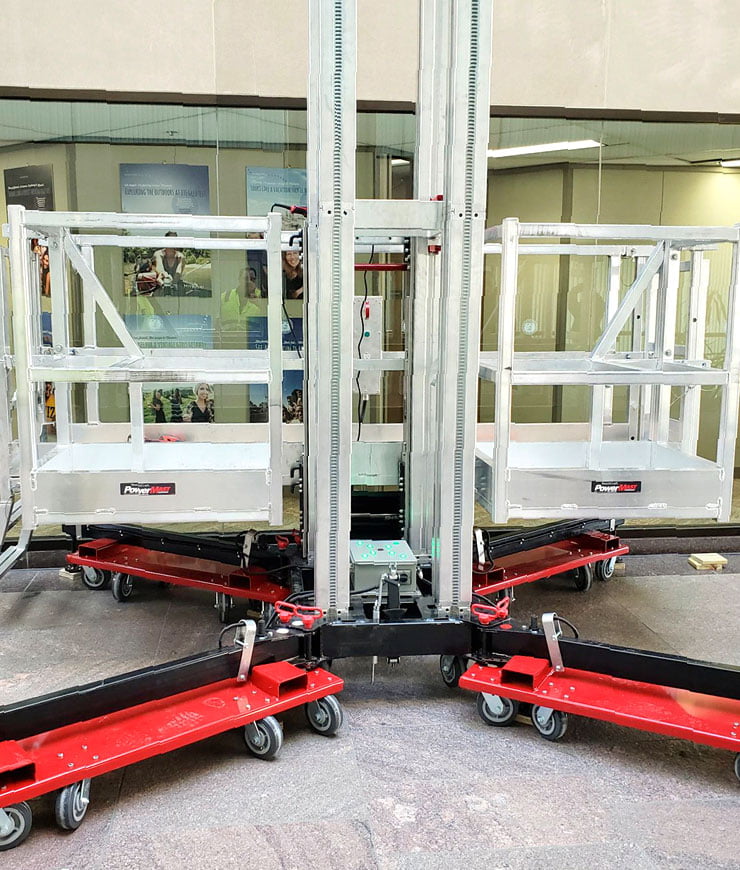 Since our founding in 1993, ReechCraft has set itself apart with innovative products and first-rate services. We strive to find new access solutions to meet the needs of every craftsman. If you have questions about any of our American-made products, have a custom application, want to place an order or would like additional information about our dealer program, give us a call at (888) 600-6160 or fill out our online contact form.