Custom Free Standing PowerMast for Agra Industries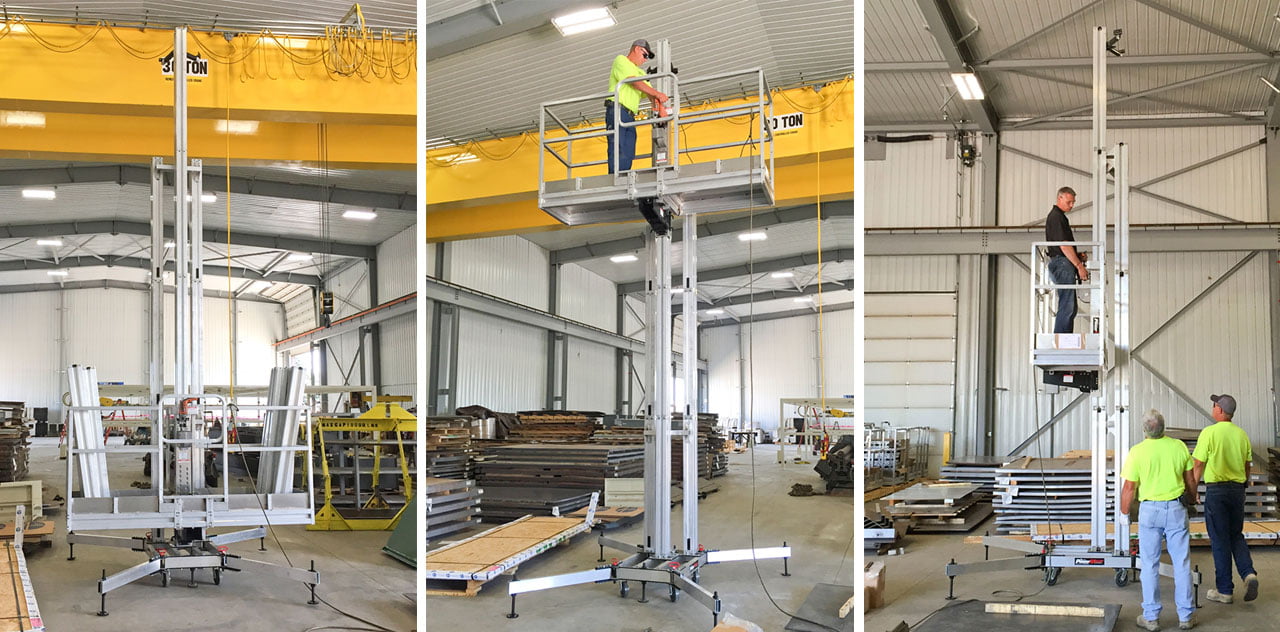 Since our founding in 1993, ReechCraft has set itself apart with innovative products and first-rate services. We pride ourselves on our ability to respond to the market with our durable product solutions. Today, we are eager to tell you how ReechCraft built a custom PowerMast for a Wisconsin agribusiness company. 
Problem:
Agra Industries builds bulk grain storage and handling solutions. Before seeking out a solution from ReechCraft, they had been using a costly and complicated option: a basket on a crane that lifted workers in order to assemble the storage bins. Agra Industries only had one crane and there was no potential for division of labor when it came to building the storage bins. This caused efficiency issues due to extra employee downtime and crane access limitations. OSHA raised concerns about the safety of the basket and crane, since it couldn't be operated safely during less-than-ideal or windy weather. In addition, unexpected poor weather would often delay jobs.
The company tried substituting with scaffolding, but this came with its own complications. The scaffolding had to be set up, then disassembled and reassembled, for every area that needed welding. Starting the entire process over in each section was time-consuming. Next, the company tried vertical lifts, but none met the necessary height requirements for the welding jobs. Alternative vertical machines were too expensive and too heavy for use.
After exhausting the most common access solutions, Agra Industries was unable to find an option that fully addressed the problems that they needed solved in order to increase productivity and effectively use their employees' time.
Solution:
Agra Industries used the PowerMast to address each of their previous access methods' problems. The PowerMast immediately improved the safety of the workers and the jobsite. Welders were working at an ergonomically-correct height, increasing efficiency while simultaneously meeting OSHA guidelines.
The PowerMast scaled perfectly to each specific job and transported easily from one work section to another. Without having to disassemble and reassemble their equipment at every welding section, Agra Industries' workers covered more distances and performed more work at different height intervals and setup locations. Employees could also work in multiple sections simultaneously instead of one section at a time. The PowerMast is steady in windy weather, and as a result, the company can more effectively schedule and utilize their crews with no job delays.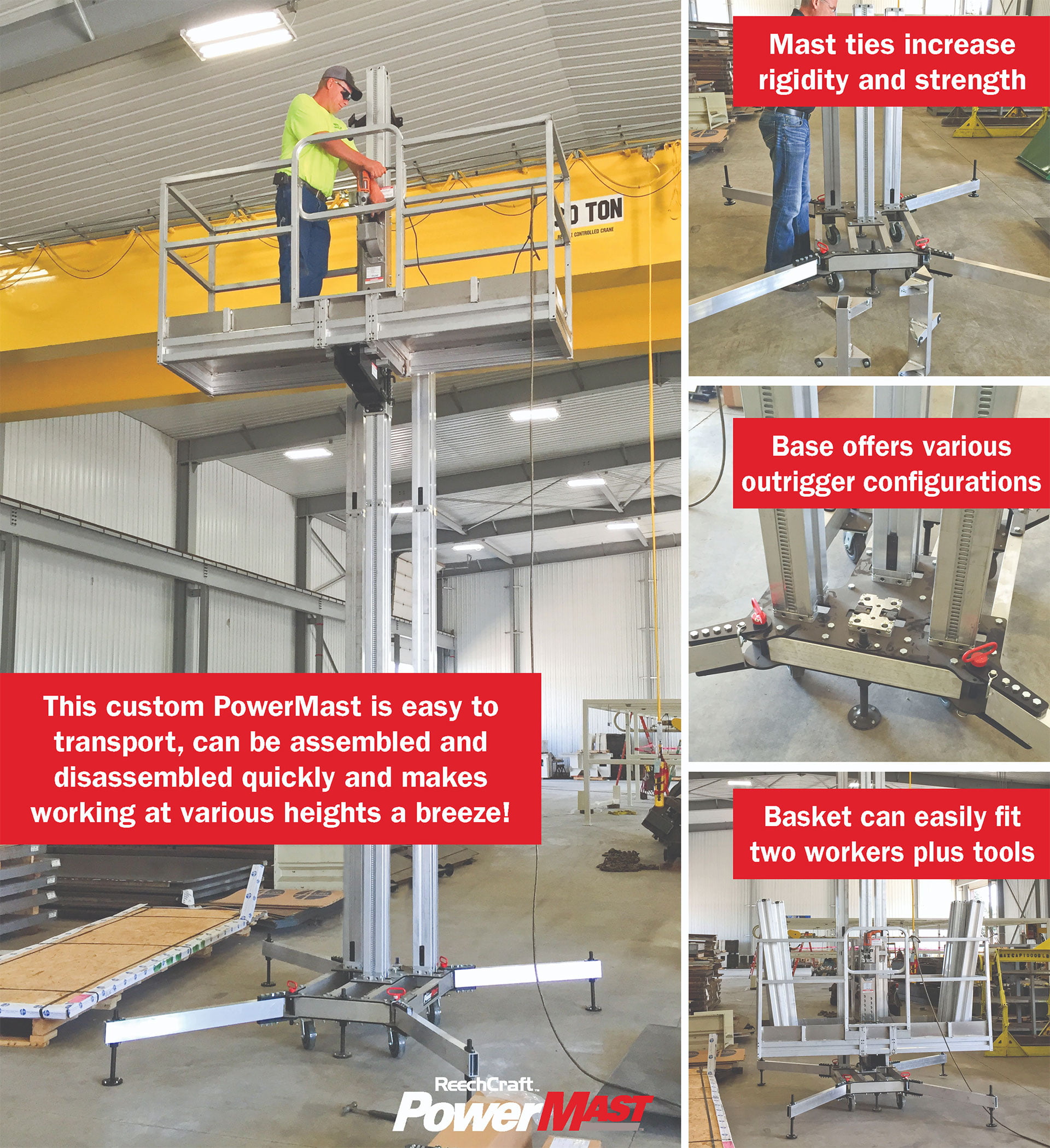 Benefits:
By using the PowerMast instead of cranes or large machines, the company saves time and money. Agra Industries has already seen positive benefits in their business because of this increased efficiency, selling more jobs due to quicker completion time.
Purchasing Supervisor at Agra Industries, Mark Robinson, had this to say about the PowerMast: "The PowerMast saved Agra Industries' time and helped the company become more efficient by helping with time constraints and scheduling."
Since our founding in 1993, ReechCraft has set itself apart with innovative products and first-rate services. We strive to find new access solutions to meet the needs of every craftsman. If you have questions about any of our American-made products, have a custom application, want to place an order or would like additional information about our dealer program, give us a call at (888) 600-6160 or fill out our online contact form.