A Custom PowerLift on Cruise Line
Since our founding in 1993, ReechCraft has set itself apart with innovative products and first-rate services. We are excited to share our product highlights and tips with you so that you can take full advantage of our American-made products.
Today, we are eager to tell you about a custom machine and how we helped this client find a solution to suit their unique access needs.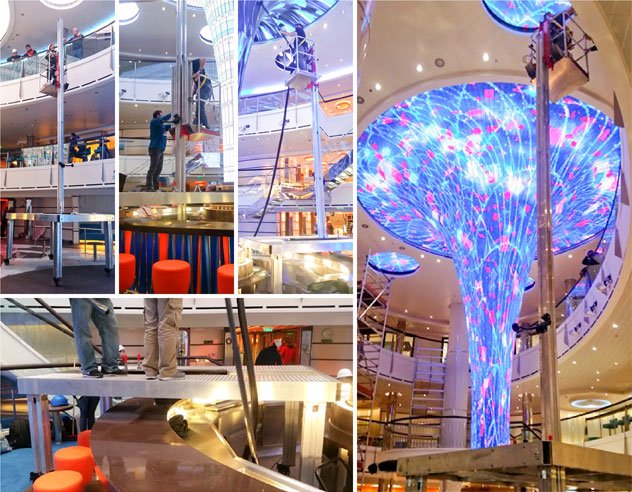 Problem: A popular cruise line recently launched a brand-new cruise ship with state-of-the-art LED technology. This new ship features an LED column in their Atrium Bar. This column is the focal point of the cruise ship's lobby, but also presents unique challenges when it comes to routine maintenance and inspections. The LED column is tall with obstructions like bars, chairs, and stools, which makes access and maintenance challenging.
The LED panels on the ceiling can be accessed, but the unusual shape of the column made maintenance at the different heights challenging. The location of the atrium on the cruise ship made it difficult to find a solution to address the problem.
Solution: A cruise line representative stated the following about the custom aerial work platform created by ReechCraft: "For our ship, there were no other practical solutions that were as portable as ReechCraft's PowerLift with custom designed platform."ReechCraft created a custom, modular, elevated platform with a table-like design where masts can be quickly attached, unattached, and reattached. The main mast allows many access points to the LED column, and the custom platform is able to be moved on or around the obstruction for optimal access at any of the column's access points. ReechCraft's compact and lightweight equipment was portable enough to move around the ship and get to the Atrium Bar.
The base of the platform wraps around the bar, has four locking swivel casters on the table base, and comes with two leg heights to accommodate different levels. The base allows various lateral positions that allow the worker to gain a better position on the LED column.
Benefits: The cruise line is also able to use this custom aerial work platform in various other locations around the ship. The masts quickly detach from the custom table-style base, which offers more usability in other areas of the ship and maximizes the benefits of this custom setup. The modular design also makes storage a breeze.
Since our founding in 1993, ReechCraft has set itself apart with innovative products and first-rate services. We strive to find new access solutions to meet the needs of every craftsman. If you have questions about any of our American-made products, have a custom application, want to place an order or would like additional information about our dealer program, give us a call at (888) 600-6160 or fill out our online contact form.