Using A Wall-Tied PowerMast System
The ReechCraft PowerMast provides fast setup and access for exterior building work up to 200 ft, making it ideal for tuck pointing, water proofing, masonry restoration and more.
With PowerMast, you get stable access at the range and scale of traditional scaffolds, but with the quick ascent ability of a mast climber. Unlike a swing stage, PowerMast is erected from the ground up, so you don't need roof access to assemble the system. You can easily access tight spots between buildings or in courtyards, where a boom or scissor lift would not be a workable solution.

And, it's extremely versatile: PowerMast can be used freestanding or tied to a building, and in single or twin configurations. PowerMast rises above the competition of other exterior building work lifts.

A wall-tied PowerMast is quick to assemble and simple to use, but it is important that the system is installed safely. Our Operator's Manual is full of valuable information on safe setup, and our website has full specifications to help you design the optimal system for your needs.
For our many customers who frequently use a tied PowerMast system, either in a twin or single configuration, the detailed information below will be most helpful!
Crushing It Without Crushing It
Ledger Board Applications for PowerMast Tie-In Support for an EIFS Building
Depending on the brand and type, Exterior Insulation and Finish Systems (EIFS) typically have five or more layers of product between the load bearing wall and the finish coat. There are many different brands of acrylic stucco (Sto, Dryvit, Parex, LaHabra, etc.) and each has its own specifications for application. When exterior work needs to be completed down the road, these application differences can create issues.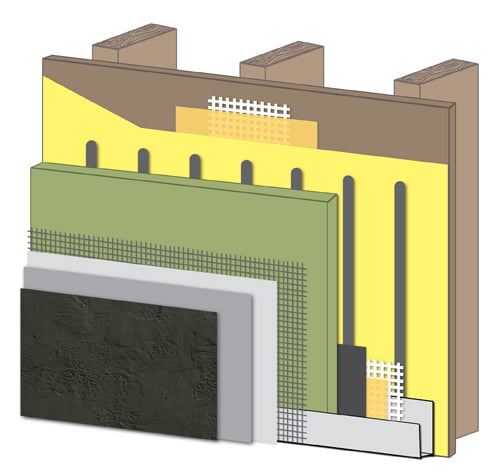 One of the main problems a scaffold installer needs to solve is figuring how and where to attach anchors to get the proper load values for the mast equipment without compressing the underlying foam and damaging the wall's appearance.
The PowerMast system specifies a pull-out value of 750 lbs per tie arm (or per side), with a maximum of 15 ft tie spacing. Our adjustable ties offer six anchor holes per arm, so installers have a variety of attachment options.
Note that our standard ties bring the mast 6 in. to 16 in. away from the wall; we also have extension tubes which can be made to extend further.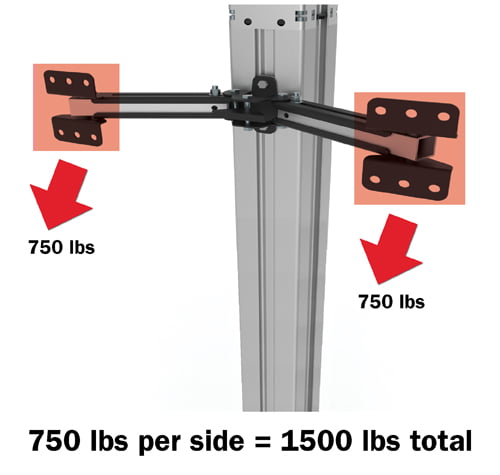 The first step for the installer is to find the studs below the subsurface for anchoring either by electronic means or cutting into the building. The installer will need to verify the spacing of load bearing structures.
Once studs have been located inside the wall, installers can attach ledger boards using structural screws. This will transfer the forces across the wall, thus allowing the wall anchors to be tapped in without crushing the wall.

For this job from Bilt Rite Scaffold, the following supplies were needed:
Plank Grade Ledger Boards: 24-36 in. long by 9 in. wide
Star Structural Screws: 8- 16 in. long
Fasteners to attach the wall ties to the ledger boards
Bilt Rite safely solved the issue of locating structural supports by cutting into the wall. After verifying the stud spacing, installers attached the ledger boards directly to the load bearing supports with long structural screws. Since ReechCraft's wall ties have six holes per arm, workers could attach as many fasteners as necessary to achieve the needed 1500 lbs. of pull out force.

When the foundation is firm, level and square, the wall is able to sustain the loads needed to build any platforms and ascend upward! Ledger boards can be attached as needed to maintain normal tie spacing, as listed in our Operator's Manual.
Thanks to Bilt Rite Scaffold of Austin, TX and ReechCraft Territory Manager, CJ Flanery, for contributing the information and images used in this message!
Since our founding in 1993, ReechCraft has set itself apart with innovative products and first-rate services. We strive to find new access solutions to meet the needs of every craftsman. If you have questions about any of our American-made products, have a custom application, want to place an order or would like additional information about our dealer program, give us a call at (888) 600-6160 or fill out our online contact form.