Exterior Restoration with ReechCraft
Since our founding in 1993, ReechCraft has set itself apart with innovative products and first-rate services. We are excited to share our product highlights and tips with you so that you can take full advantage of our American-made products. Today, we are eager to tell you how our various ReechCraft products can help those of you who work in the exterior restoration business!
#1: Tuckpointing with PowerMast in Kansas City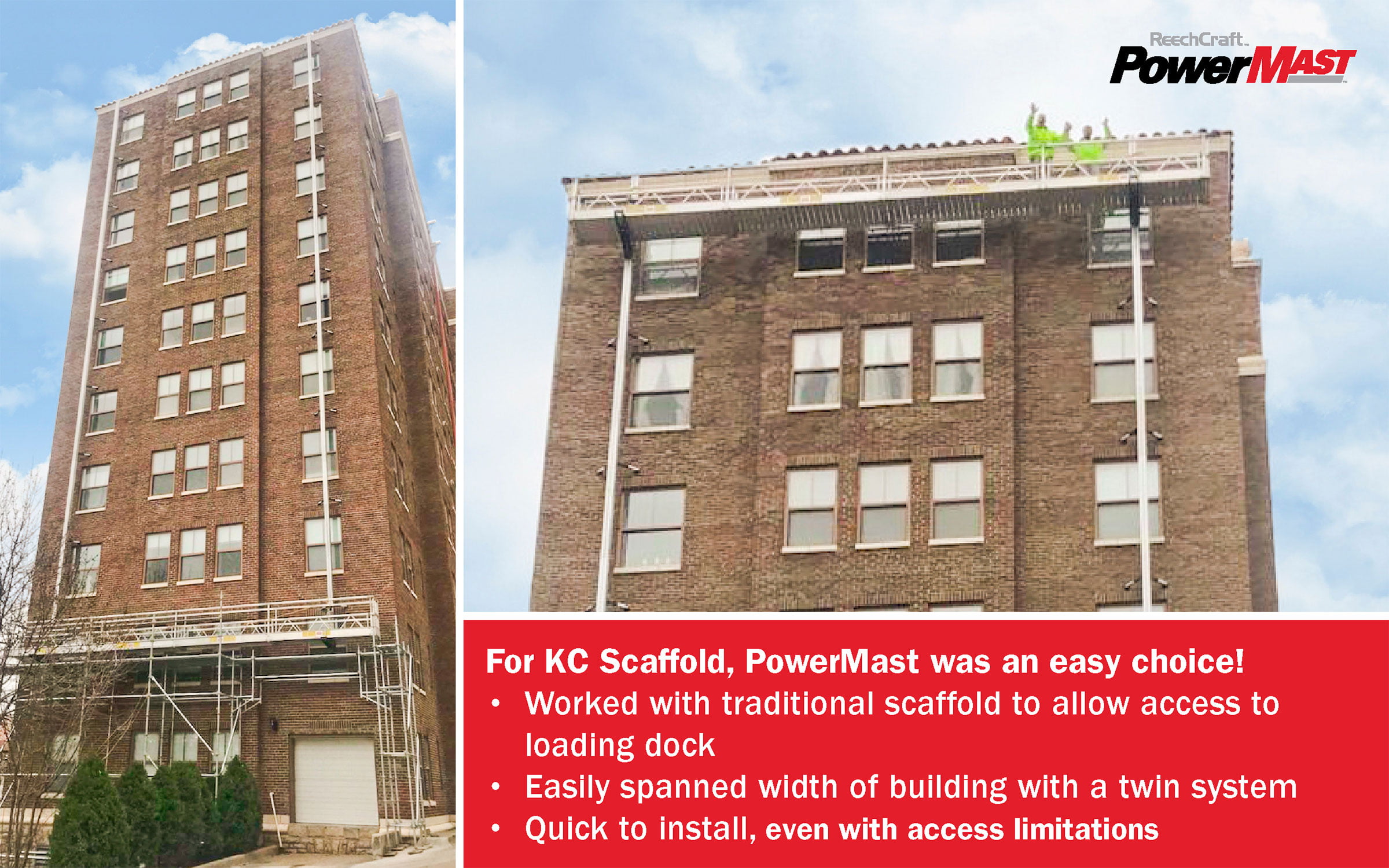 KC Scaffold, which has over 40 years of experience delivering scaffolding services and products, used ReechCraft's PowerMast to work on an upscale six-unit apartment complex that required tuckpointing. This was a project that required safe and easy access to these busy apartment buildings, which are located on a steep hillside. By using a PowerMast twin system along with standard scaffolding, workers were able to access all surfaces of the building's exterior at a comfortable height and could keep all of their tools handy! Sean Connolly at KC Scaffold told us, "The ReechCraft Powermast worked out great for this application!" Click here to read the full blog!
#2: Window Replacement with PowerPole in South Dakota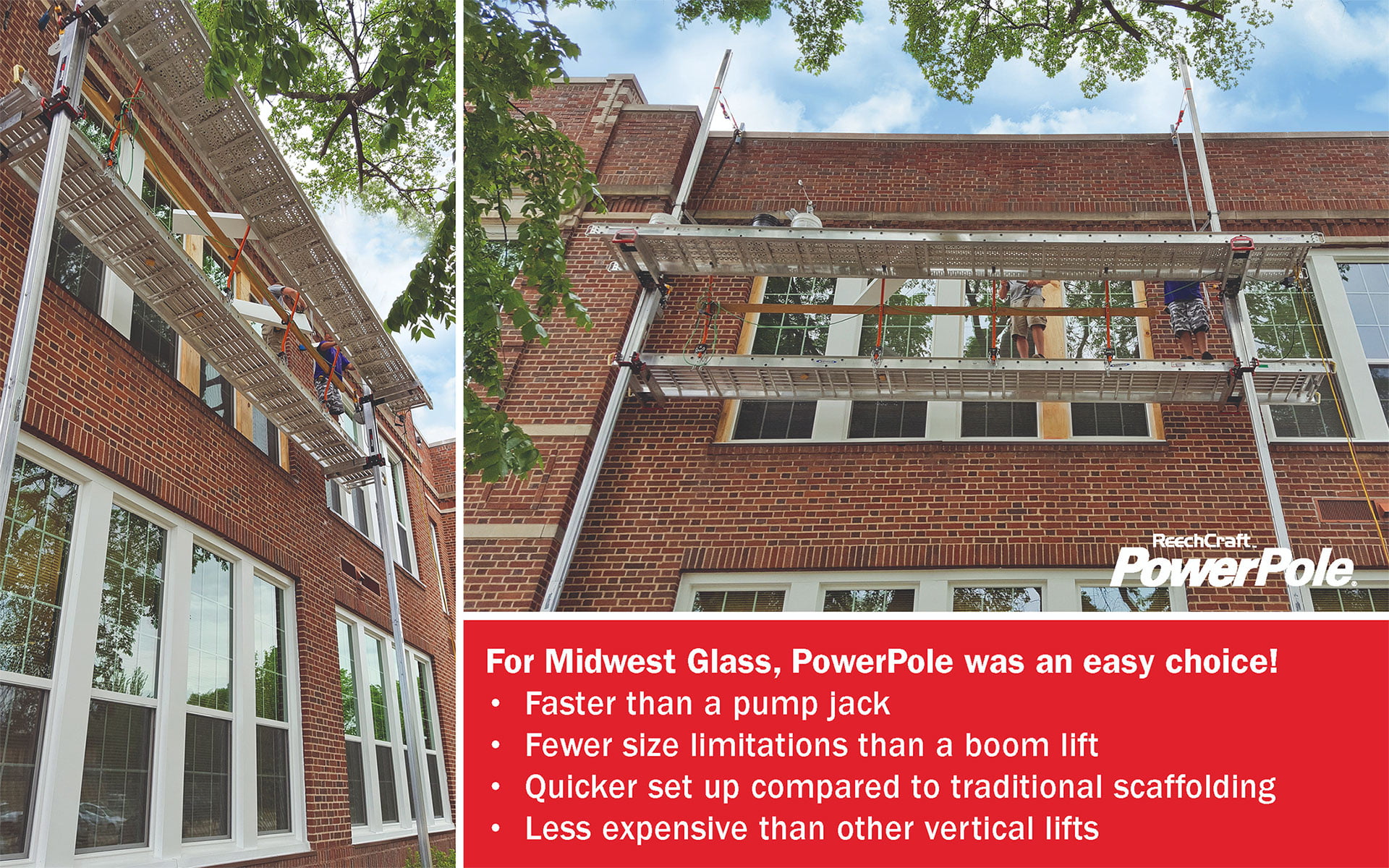 Midwest Glass was looking for an easy, safe, and fast solution to replace 180 windows in a historic 1921 building located in Brookings, South Dakota. They considered boom lifts, scaffolding and other solutions, but ruled them out for various reasons. ReechCraft's PowerPole was a good solution because it provided a much faster setup time than scaffolding and made for easier access to the building. Not only did PowerPole prove to be safe for workers and easy to set up, it saved workers significant time and energy since it is a powered lift rather than a pump jack-style system. Jacob Mills, of Midwest Glass said, "The PowerPole is working out great on this project and I see us using it on many projects in the future!" Click here to read the full blog!
#3: Window and Brick Restoration in Fargo, North Dakota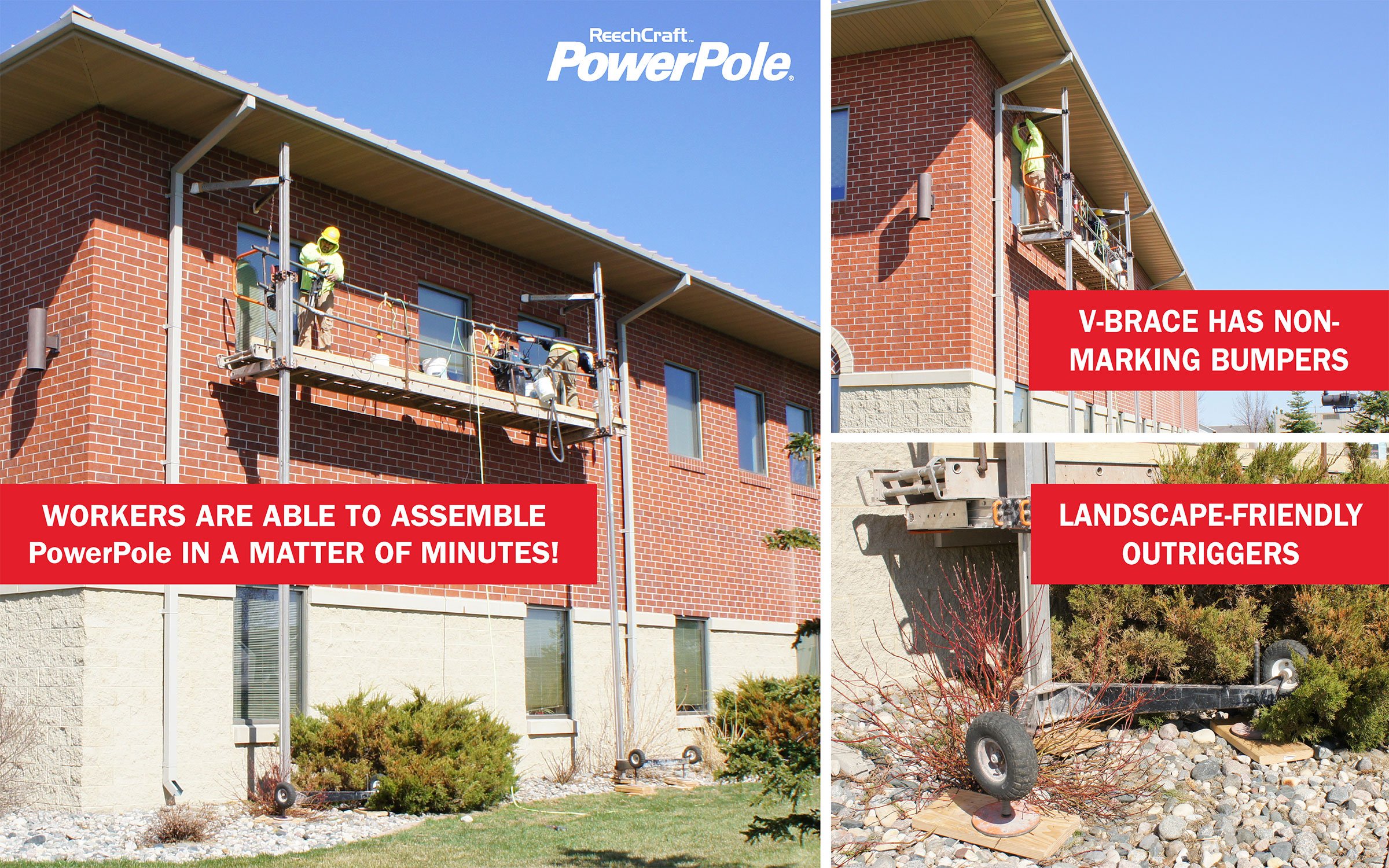 Mid-Continental Restoration completed a maintenance and restoration project in Fargo, ND, repairing joints and caulking around windows and other exterior surfaces. Access had to be quick and efficient to get the project done promptly and safely, but rocks and bushes around the perimeter of the building limited access and created an uneven working surface.  Mid-Continental Restoration has been using the ReechCraft PowerPole system for a long time and knew it would be the right system to complete this project. The working height of this project was ideal for PowerPole, and the outriggers made positioning the system around the existing landscaping fast and easy. Foreman Jason Boehmer said, "I love the PowerPole system and knew it would be a perfect fit for this job!" Click here to read the full blog!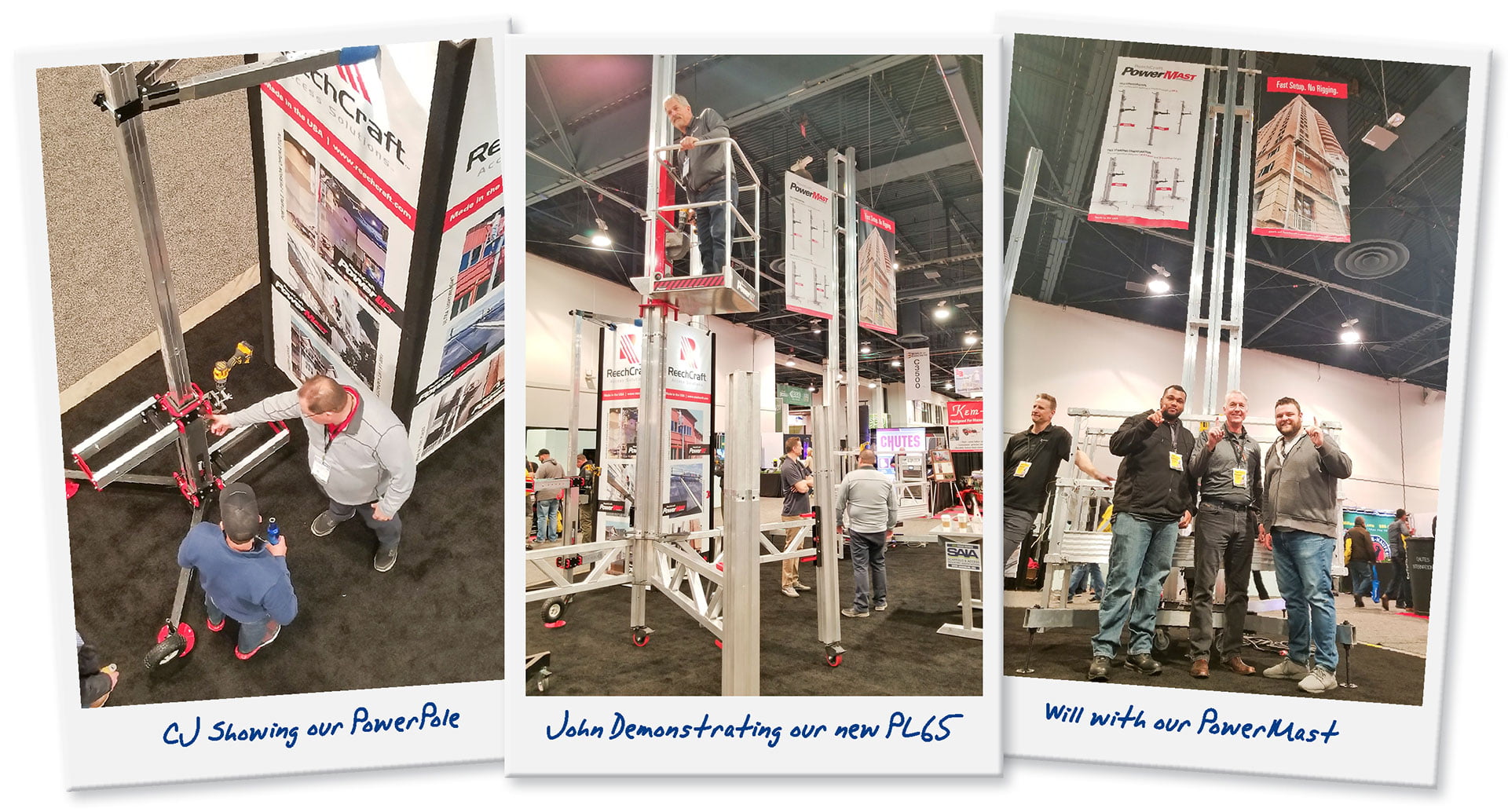 Also, we want to thank you for visiting ReechCraft at World of Concrete in Las Vegas last month! We were glad to connect with all of you great folks and to demo our Bronco, PowerLift PL65 with Straddle Base, PowerPole and PowerMast for you!
We want to remind WOC attendees that ReechCraft is offering FREE FREIGHT on our convenient, easy-to-use PowerLift for a limited time.* Contact us to get more details about this special pricing option and be sure to mention this offer with your order.
Since our founding in 1993, ReechCraft has set itself apart with innovative products and first-rate services. We strive to find new access solutions to meet the needs of every craftsman. If you have questions about any of our American-made products, have a custom application, want to place an order or would like additional information about our dealer program, give us a call at (888) 600-6160 or fill out our online contact form.
* This limited time offer will run through February 28, 2019 for 2019 WOC attendees. Non-transferable. Offer is subject to change without notice. No cash value. Offer is not valid with any other offer or discount on existing projects, quotes or prior purchases. Offer is only available in the contiguous United States.