Historic Building Renovation in Downtown Fargo, ND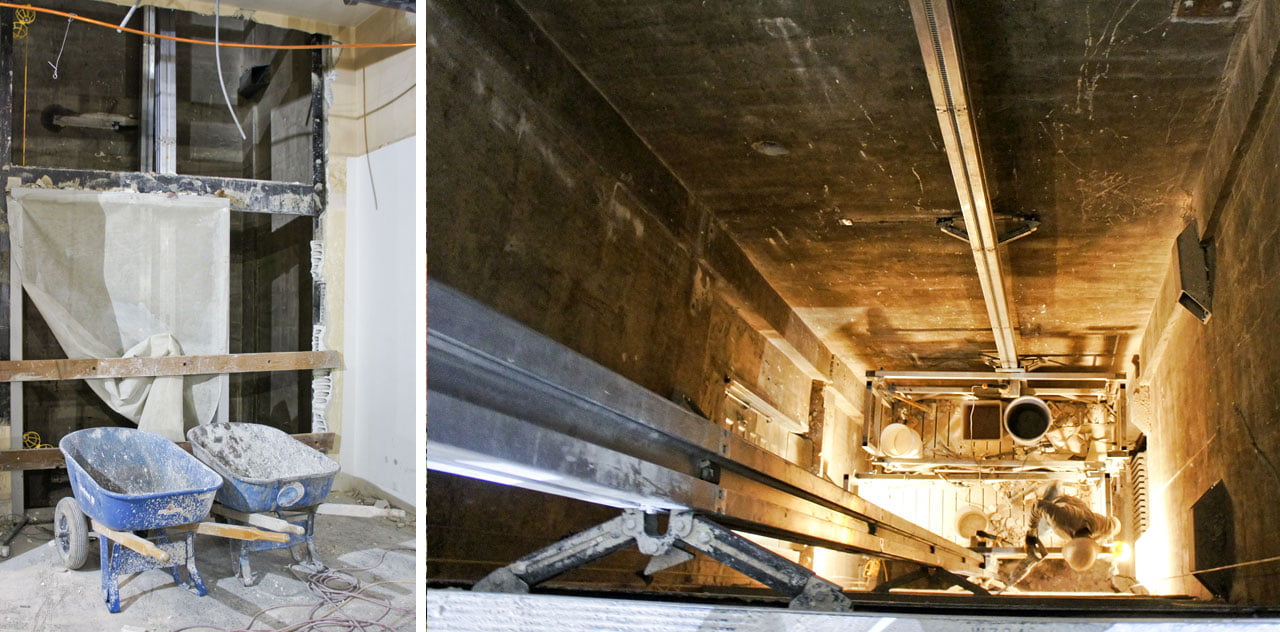 Since our founding in 1993, ReechCraft has set itself apart with innovative products and first-rate services. We pride ourselves on our ability to respond to the market with our durable product solutions. Today, we are eager to tell you how ReechCraft's PowerMast is helping make renovation work a little easier in a historic building in Fargo, North Dakota.
Problem:
Syncorp Construction Services, located in West Fargo, ND, offers concrete, steel erection and general construction services throughout the area. Syncorp is currently working on a restoration project in the historic "Black Building" in downtown Fargo, which has been a landmark since its construction in the 1930's. The project entails work within a tight elevator shaft to fix and install wiring, repair concrete and repair and install new framing. The elevator posed a real problem with scaffolding as it would take too long to install, it would not allow the crew complete access to the working surfaces and did not provide a completely safe environment.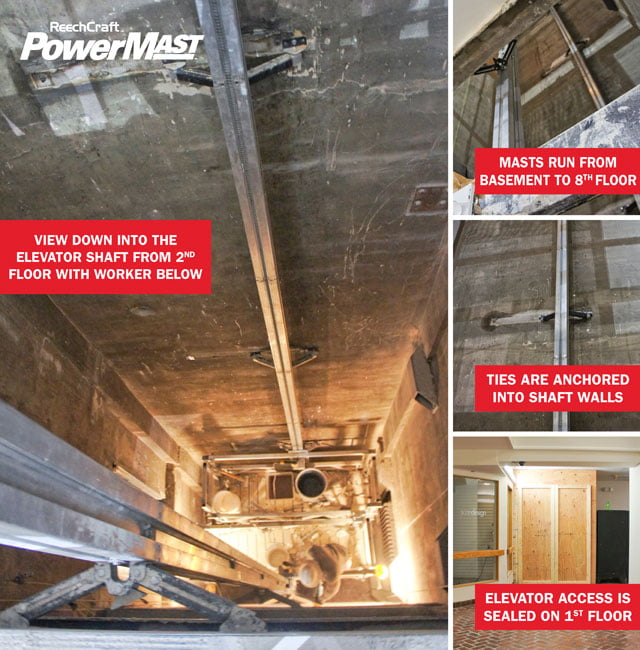 Solution:
ReechCraft took on the project and offered our PowerMast system as a solution. The PowerMast system allowed for one climbing unit to be installed on each side of the shaft, each with an independent platform and work surface. This allowed for the crew to have complete access to the shaft on all four side, at any height and at any time. This not only made completing the job faster and more efficient, but also safer as well.
Benefits:
Since the PowerMast allows you to build as you go – with 5-foot mast sections featuring our tools-free coupler system – assembly is much less time-consuming than scaffolding. PowerMast offers accessibility up to 200 feet, which was perfect for this job. Without extensive scaffolding to work around, all heights of the elevator shaft are accessible at all times. For this job, the two separate masts with two independent platforms allow for 2 different areas of the shaft to be worked on at once, so one worker could be repairing concrete near the 5th floor while another is installing wiring in basement. Finally, with the elevator access from 1st floor completely sealed, retail business could carry on a usual while upper floors underwent extensive renovations.
Since our founding in 1993, ReechCraft has set itself apart with innovative products and first-rate services. We strive to find new access solutions to meet the needs of every craftsman. If you have questions about any of our American-made products, have a custom application, want to place an order or would like additional information about our dealer program, give us a call at (888) 600-6160 or fill out our online contact form.