Work Faster, Easier and Safer!
Today, we'd like to take the opportunity to showcase some of our most innovative lifts! These lifts are sure to get your customers access to even the most challenging locations.
The ReechCraft PowerLift makes access easy and has a large range of applications that are convenient without sacrificing security. Read how our line of PowerLifts can make work faster, easier and safer!

Our PowerLift PL20 is an all-around high-performing lift because it's much more portable and easier to set up than traditional ladders and scissor lifts. It's so portable, in fact, that one person can easily roll it across uneven surfaces and carry it up stairs when it's collapsed. The PL20 also has a zero-degree turning radius and fits through standard doors!
The most groundbreaking features of the PL20, however, are its outrigger base and stackable mast sections. This is because both of them work together to make our lift work in environments that most lifts on the market could only dream of.
The outrigger base can quickly be adjusted to uneven surfaces and cramped spaces, creating a stable base for your customers to reach up to 20 ft in height!
When coupled with our stackable mast sections that a single person can remove and stow in only seconds, it's easy to see how the PL20 rises above the competition.
And of course, the PL20 does it all while conforming to ANSI A92.20 and OSHA safety standards for aerial lifts.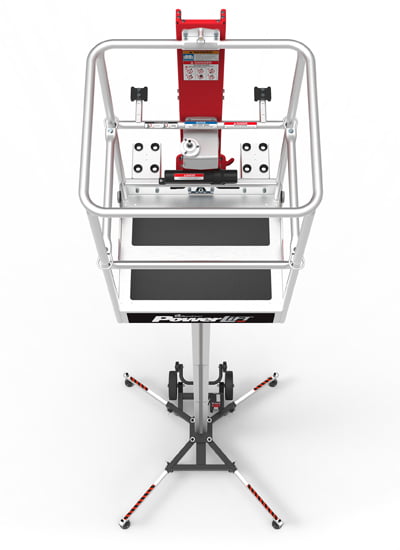 It's this access excellence that we've built upon with our PL65. This new design is our most versatile PowerLift ever. That's because we've designed it with three different base options. This three-in-one lift will help your customers finish even the most challenging access projects with ease.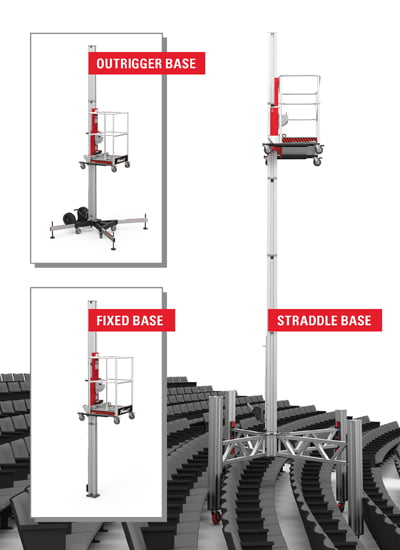 The first option is our standard outrigger. This is the classic base will quickly make a stable foundation on even the most difficult terrain.
Base number two is our fixed base, which has an incredibly small footprint. This makes it perfect for working in tight areas that typical lifts cannot be set up in. And of course, our fixed base still offers the reliable stability you expect from a PowerLift.
Finally, our third base, the straddle base, is the one we are most excited about. With this setup, your customers will be able to work over obstacles like theatre seats or church pews, no problem.
With all three of these diverse bases, the PL65 meets ANSI A92.20 and OSHA safety standards for aerial work platforms.
Since our founding in 1993, ReechCraft has set itself apart with innovative products and first-rate services. We strive to find new access solutions to meet the needs of every craftsman. If you have questions about any of our American-made products, have a custom application, want to place an order or would like additional information about our dealer program, give us a call at (888) 600-6160 or fill out our online contact form.