PowerLift is a Time-Saver for a Canadian Aircraft Refueler
Today, we are also eager to tell you how our PowerLift has helped a Canadian aircraft refueling company save significant time and ease the burden on their workers by using our lightweight, portable lift.
Problem: Harnois Aviation, located in St. Thomas Quebec, has been in business since 1958 and is committed to providing high quality petroleum products to clients in the aviation field and beyond. When refueling aircraft, workers form Harnois Aviation were using step stool scaffolding. The scaffolding was heavy, tough to roll around and did not provide a lot of flexibility. Workers were constantly needing to go up and down the stairs, which caused safety concerns and fatigue.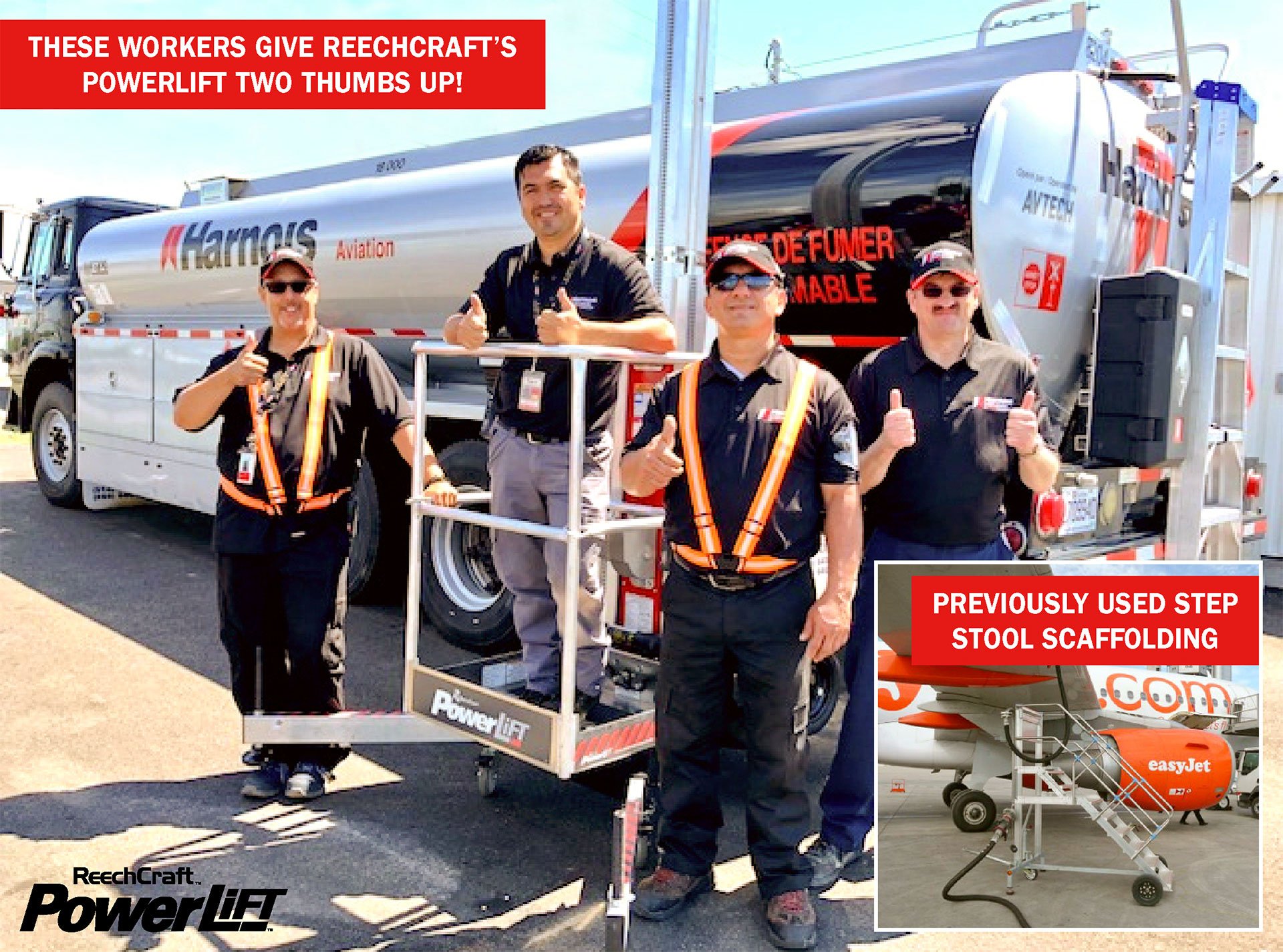 Solution: Pascolift, a ReechCraft dealer in Canada, provided Harnois Aviation with the perfect solution to their access problem! The ReechCraft PowerLift was able to save Harnois workers significant time as they are able to leave the PowerLift erected in the air as they move it around from aircraft to aircraft to refuel.
Benefits: Issues of worker safety and fatigue were addressed: workers no longer have to climb any steps to reach the refueling area. Additionally, when it is time to store the PowerLift, it is quickly lowered and disassembled without the use of any additional tools!
PowerLift's flexibility of use, combined with its lightweight frame, has so many uses that other machines cannot do! According to Eric Maffolini of Pascolift, "The PowerLift is working out great and Harnois Aviation is loving it! We were able to provide Harnois with one hour of training and they quickly realized how much time they would save!"
Just imagine the projects this lightweight machine could do for you! Whether it's hauling materials up and down stairs, indoor or outdoor projects, lighting, or even aircraft refueling, PowerLift can do it all!
Thanks to our dealer Pascolift, out of Drummondville, Quebec, for passing this great story along to us! If you have a ReechCraft project and would like to be featured on our blog, email pictures and information about the project to customer.service@reechcraft.com.
Since our founding in 1993, ReechCraft has set itself apart with innovative products and first-rate services. We strive to find new access solutions to meet the needs of every craftsman. If you have questions about any of our American-made products, have a custom application, want to place an order or would like additional information about our dealer program, give us a call at (888) 600-6160 or fill out our online contact form.