A Custom 80-Foot Lift for Goodyear Tire & Rubber Company
Since our founding in 1993, ReechCraft has set itself apart with innovative products and first-rate services. We are excited to share our product highlights and tips with you so that you can take full advantage of our American-made products.
Today, we are eager to tell you about a custom machine and how we helped this client find a solution to suit their unique access needs.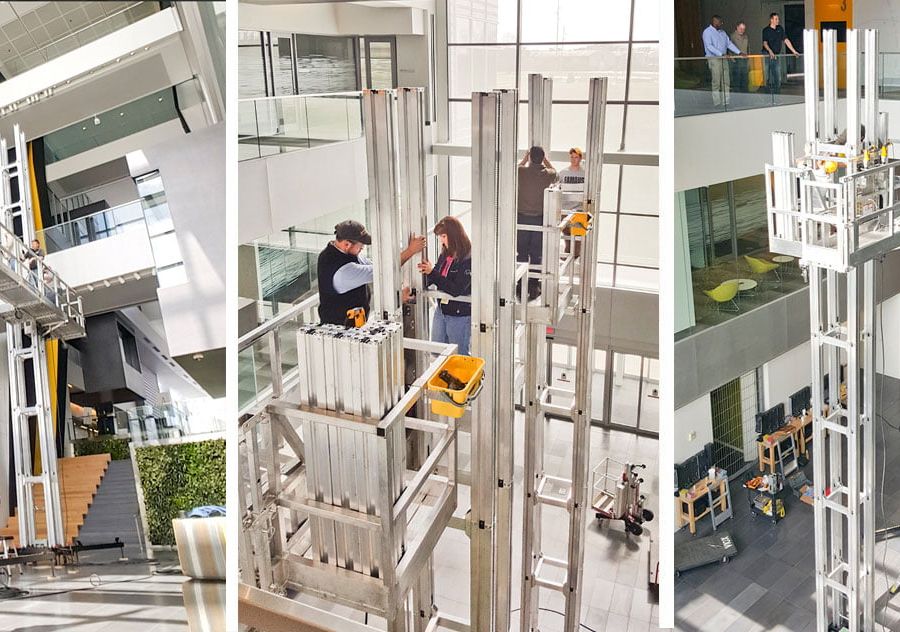 Problem: The Goodyear Global Headquarters facility in Akron, Ohio, has four large atriums that reach 80 feet in height with glass curtain walls, internal and external windows, lighting, ground obstructions, both raised and specialized flooring material, and bump outs. Since the atriums are located inside the building, the company could only transport equipment to the area using elevators and stairs, which presented numerous problems for typical access equipment. Although scaffolding could reach the needed heights, it was time-consuming and took days to set up, move and teardown.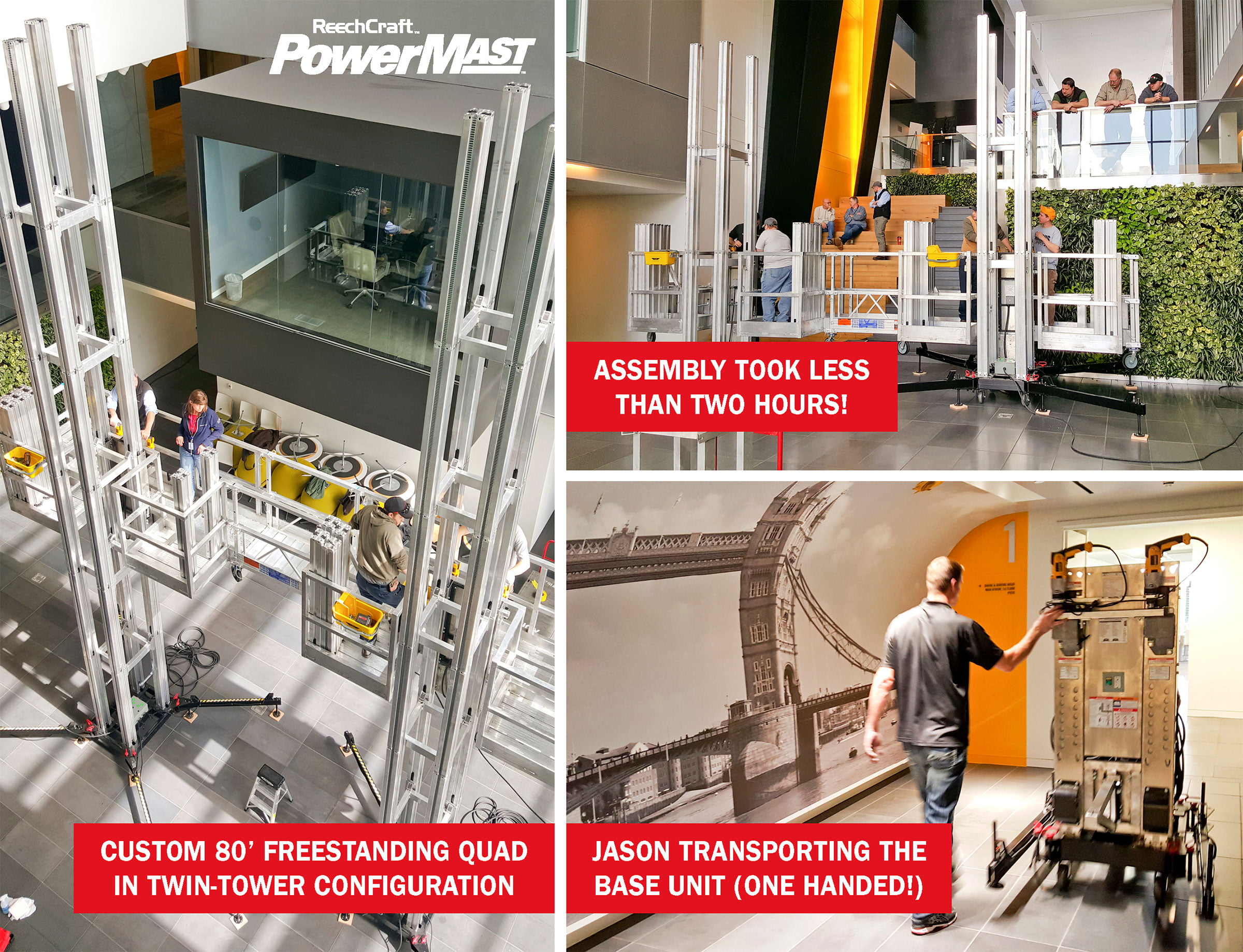 Solution: ReechCraft presented the solution of a custom Freestanding Quad PowerMast that could be used in both a single-tower or a twin-tower configuration. Using standard components from our PowerMast, and adding some custom assemblies, we created a modular configuration that would solve the access problem.
Four masts were combined with a custom tie bracket to form one rigid, freestanding tower. ReechCraft built custom platforms for both single and twin towers. The custom outrigger bases provide minimal PSI (pounds per square inch) and operated safely and solidly at the required 80-foot height.
ReechCraft's custom aerial work platform sets up within two hours and can move around to different areas while assembled. Other access methods had to be left in one place or completely disassembled and set up again in order to move. None of the alternatives could meet the time or height requirements needed for accessing the atriums.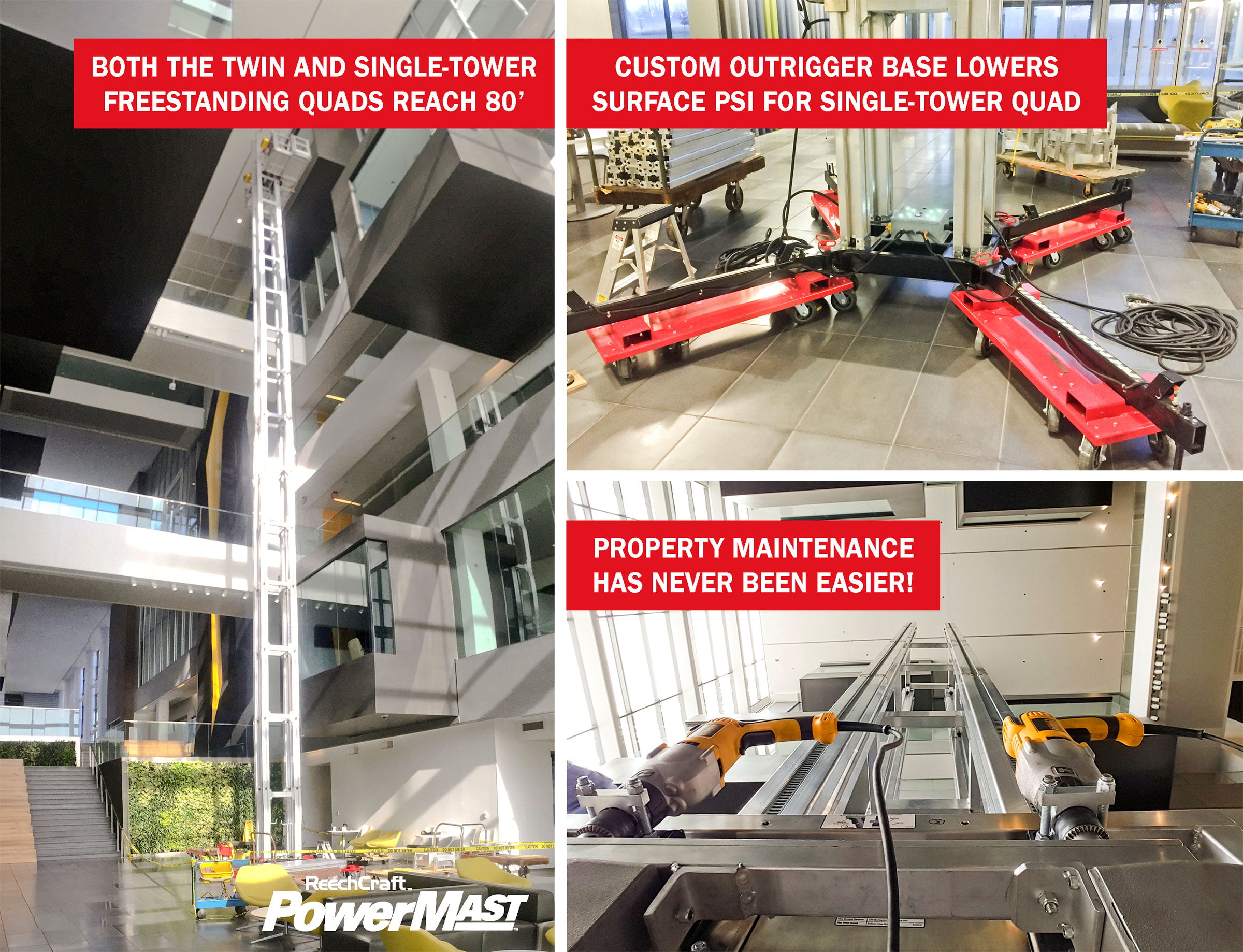 Benefits: According to Valerie Bigler, Senior Facility Manager with IRG Realty Advisors, who maintains the building, "This is the first time since this building was constructed that we've been able to access the top of the atrium to change lights and clean the windows. This custom setup offered an economical and logistically-friendly option for reaching the atrium space while addressing concerns and issues presented by alternative access methods."
With this economical custom solution, the facilities maintenance personnel at this corporate campus can now reach the needed heights without costly rentals or extensive scheduling delays. The custom PowerMast setup can work at different height levels and around obstructions near the atrium. In addition, it is quickly assembled, with only a two-hour setup time.
Since our founding in 1993, ReechCraft has set itself apart with innovative products and first-rate services. We strive to find new access solutions to meet the needs of every craftsman. If you have questions about any of our American-made products, have a custom application, want to place an order or would like additional information about our dealer program, give us a call at (888) 600-6160 or fill out our online contact form.