The New and Improved ReechCraft Bronco!
Since our founding in 1993, ReechCraft has set itself apart with innovative products and first-rate services. We are excited to share our product highlights and tips with you so that you can take full advantage of our American-made products.
Today, we're excited to tell you about our newly updated Bronco All-Terrain Scaffold!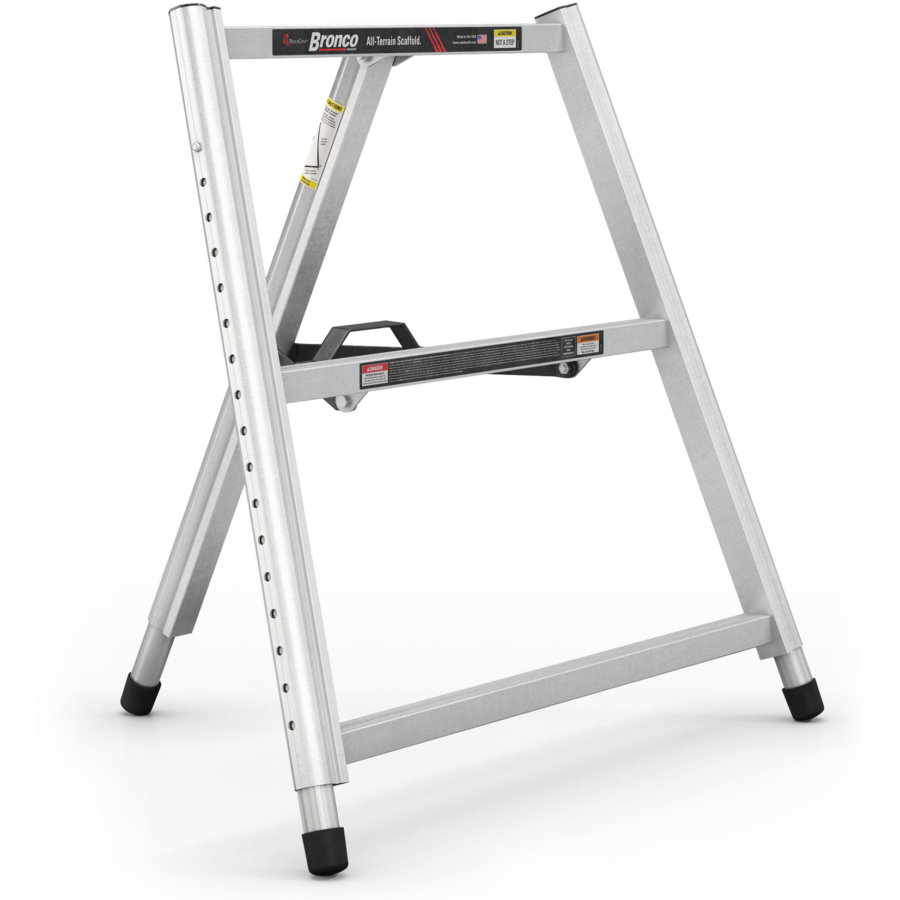 The Bronco has always been manufactured with aircraft grade aluminum, but the new model has this great feature on full display! You may recall that the previous model was powder coated black, which made some people assume it was constructed of steel (and therefore quite heavy!). While the heavy-duty spreader continues to be made of steel, the remaining components are made of lightweight, easy-to-transport aluminum. Each sturdy Bronco weighs only 16 lbs but carries an impressive duty rating of 300 lbs. Even more, without powder coat to scuff, our new, unpainted model will look great for years to come.
Here are some additional features you don't want to miss:
The extra-wide frame (up to 42 in. base spread) and tapered tripod design provide unmatched stability and easy plank access.
Each leg is independently adjustable with a solid steel locking spring pin that engages every 1.5 in. to safely accommodate even the most difficult terrains.
Non-skid rubber feet hold Bronco securely in place.
Bronco is ideal for interior and exterior applications with uneven and difficult ground conditions.
Each pair of Broncos can be set up with a level platform height from 3 ft to 5 ft.
Each pair easily supports up to a 24 in. wide platform and 600 lbs.
Bronco folds flat for easy storage and transport.
Triangular, heavy gauge steel spreader locks the third leg into position with an integrated carrying handle.
Demand is currently very high for the updated Bronco! Amazon.com and our dealers are selling out at record pace! Our Fargo, North Dakota, production plant has been working hard to fulfill orders as quickly as possible. Check with your local ReechCraft Dealer or continue to watch Amazon.com to see if you can score a set!
You've heard us talk about Bronco before, but we truly believe that every craftsman should own a pair. If you have a hammer and a tape measure, you need a pair of Broncos! No matter the project—siding, roofing, painting, windows, maintenance or masonry work—the Bronco will keep you stable on any terrain.
Since our founding in 1993, ReechCraft has set itself apart with innovative products and first-rate services. We strive to find new access solutions to meet the needs of every craftsman. If you have questions about any of our American-made products, have a custom application, want to place an order or would like additional information about our dealer program, give us a call at (888) 600-6160 or fill out our online contact form.